Compare Bedfordshire Roof Cleaning Deals for January ⤵
Basic Roof Cleaning Services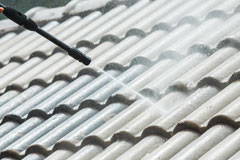 Roof cleaning is a relatively new service offered to home-owners who have a problem with bacterial and fungal infestations on their roofs. The most common problems are green and black algae, mosses, mildews, and moulds as well as other fauna. These create a problem for shingles and tiles and also attract birds which may result in unwanted nests and clogged gutters. Roof cleaning services include removing the algae, clearing gutters and inspecting for damage. Then Bedfordshire roof cleaners will then recommend repairs if required.
What Causes Those Black Streaks?
Black streaks on a roof are the most common cause for concern. These often harbour a number of fungal and bacterial growths including common green and black algae. Fungal infestations can be extremely damaging. The layer of spores increases the heat and humidity on your roof which can warp shingles and damage roof materials. Fungi also feed on tar and limestone disturbing the roofing compounds responsible for UV protection. This can greatly reduce the longevity of your roof.
This is the place to be for quotes from vetted roofing professionals. Access the largest network of screened roofers in the UK and get up to four no-obligation quotes absolutely free of charge.
Hear direct from approved specialists
The Pressure Washing System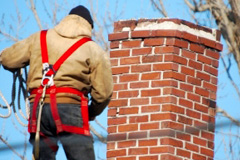 Although pressure washing has been a preferred method of roof cleaning for several years, this process can be more detrimental in the long run. Pressure washing should only be used for rinsing an already cleaned roof, never for the removal of fungi and algae itself. The high pressure jet of water can erode your roof, damaging shingles and tiles, while only spreading spores of algae and mildews resulting in a thicker, healthier regrowth. Pressure washing merely prunes without addressing the root of the problem.
Soft-wash Roof Cleaning:
The better method of Bedfordshire roof cleaning includes the use of low pressure water systems complete with sanitation chemicals to bleach and kill colonies of algae and fungi. The soft-wash method poses no risk of erosion and allows for a deeper permeation of chemicals so that the unwanted pests are not only removed once, but are also prevented from returning. Be sure to discuss different cleaning methods with the professionals as some roofing materials may not be able to withstand certain chemical washes.
The Dangers of DIY
DIY roof cleaning is strongly not recommended. Identifying the type of infestation and knowing how best to handle it takes years of experience and certified training. Working at extreme elevations can also put you in danger of personal injury should you fall from a ladder or roof top. Improper roof cleaning can cause significant damage to your roof and could end up costing you more in the long run. Why risk injury and unnecessary expenses with a DIY when the professionals are standing by, ready to clean your roof?
Regular Professional Cleaning is Recommended
Although it may look like an easy task to clean a roof, it is in fact a specialized job that should be handled with care. Roofing contractors and companies have the correct equipment and high quality cleaning supplies to do the job correctly, while also ensuring that no damage occurs to your roof during the process. While it can be tempting to hire a pressure cleaner to do the job yourself, this is not recommended, as it can not only damage the surface of the roof; it can result in leaks appearing at a later stage as well.
Don't live with a roof streaked with algae when affordable roof cleaning is available. Take a minute to fill in our online form describing the problem with your roof and we'll handle the rest. With our access to a network of Bedfordshire roof cleaning professionals, we'll find you the best services at the lowest prices. Don't let an ugly roof diminish the value of your property or put the structural integrity of your home at risk. A pristine roof home could be yours, so get a free no-obligation quote from us today.
Compare Bedfordshire roof cleaning costs with our quote service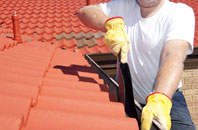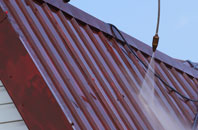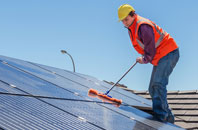 Your Bedfordshire roof cleaning questions answered
Why should I clean my roof?
The black streaks you see on your roof are actually algae growth. This build up can damage the tiles on your roof, as well as increasing cooling costs by holding large amounts of heat in your attic spaces.
Can I just clean it myself with my pressure washer?
You should not use a pressure washer on a roof. While it may get rid of the algae, it can also cause damage to the roof structure and tiles, which can lead to leaks and roof failure. Most cleaning services use environmentally friendly cleaning and low-pressure water hoses.
Is it safe to use chemicals to clean my Bedfordshire roof?
Using chemicals is not recommended on most roof surfaces, since they may cause damage to a number of surfaces. Mild detergent or degreaser is all you need to get rid of most stains on your roof.
Why should I hire Bedfordshire professionals to clean my house roof? The job looks easy enough to do myself.
Although it may look easy, cleaning a roof can be an extremely labour intensive and not to mention, risky task. If you suffer from any health conditions such as vertigo, high or low blood pressure or you are afraid of heights, you could injure yourself severely by attempting to clean your roof. Rather enlist the help of an expert.
The Roofing Cleaner Quote Form
Let us know a few details about the roof you would like cleaned with our simple 1 minute quote form.
Your Free Roof Cleaning Quotes
We'll arrange up to four free Bedfordshire roof cleaning quotes to be delivered direct to you.